Interview Article - Xavier Marot, Magic Projects
"Our aim is to place Magic Projects as the pioneer in project management software in terms of free availability, ease of use, and versatility," Xavier quotes.
Founder of XM Tools and Chief Executive Officer of Magic Projects, Xavier Marot shares in this interview with
GoodFirms
how he created this free and open-source project management software, Magic Projects, with a desire to help businesses manage their projects better.
<![if !vml]>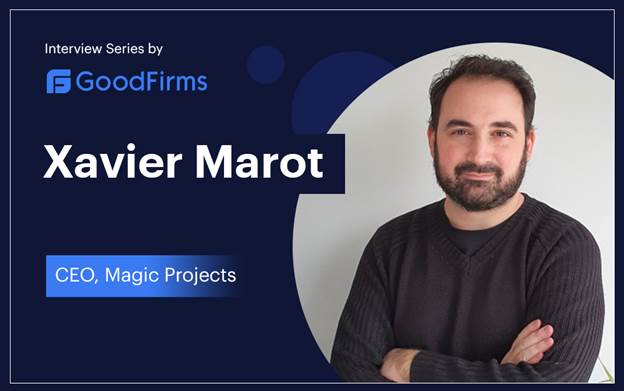 <![endif]>
Headquartered in Paris, France, Magic Projects is a free and open-source, cloud-hosted project management software. The software is specifically designed to serve the comprehensive project management requirements for video game companies. Still, its versatile project management tools make it suitable for a broad range of industries and businesses of all sizes, whether small, medium, or large.
Magic Projects offers exhaustive tools to cover various stages of project management. The software's core features include real-time visibility, dashboard, idea management, portfolio management, project tracking, project planning, centralized task management, timesheets, Gantt charts, budget management, alerts/notifications, reporting & forecasting, and more.
Magic Projects is a free software that users can download and start using instantly. Thus, it can be profitably leveraged by companies with budget limitations that cannot afford to spend on costly project management tools available in the market.
Free and Extensive Project Management Tool
Starting with the interview, Xavier describes Magic Projects as a one-stop-shop solution for project management that allows users to handle projects, teams, tasks, budget, and planning in an easy, fluid manner.
Xavier states that the goal behind creating Magic Projects was to distribute and organize his work on multiple projects in video game development while tracking the budgets spent on each project simultaneously. He could not find a single software offering all such tools on a unified platform, which motivated him to create Magic Projects. He further specifies that he designed this software for the video-game industry, but other sectors are also leveraging it profitably; for example, a law firm is one of their happy clients.
On being questioned, how the software offers value addition to its clients, Xavier clarifies that besides being a free and open-source solution, Magic Projects provides certain unique features that make it stand apart from other similar products in the market.
Distinctive Features
Xavier explains that Magic Projects offers a tree structure or nodal approach for tasks, Gantt planning built on the fly, and resource tracking with precise team assignment changes (again, on the fly) depending on the task activities.
The software allows creating tasks with a customizable stage tree where one can define the whole workflow. Tasks will naturally go from one person to another depending on the progress indicated by each team member, for example, design then modeling, code, integration, etc., and test stages.
Besides, Magic Projects generates various data about planning, project progress, feasibility studies to reach a milestone, team & budget distribution, workload, etc. The software also analyses this data to produce a global view for each project automatically. It simultaneously sends notifications to users from the website or by email with helpful information such as new tasks available, the progress of tasks the user is tracking, and more, Xavier adds.
Customer Satisfaction
We further inquired about the customer satisfaction rate for the software. Xavier asserts that Magic Projects users have been very satisfied thus far, and he assures providing updates to fit user needs or answer their questions as needed.
Customer Support
When asked about the company's customer support offerings for Magic Projects users, Xavier clarified that they provide customer support via email or any direct chat software like Teams, Skype, Discord, Slack, and more. The company additionally facilitates videos to guide the users about different features of Magic Projects.
Xavier further quotes, "GoodFirms is a great reference for software; it provides clear insights to users regarding their needs, pointing them to the right tool. In this spirit, Magic Projects has got new clients."
Magic Projects - The Best Project Management Software
Magic Projects being free and open-source, the company aims for its continued development, including a complete user interface (UI) revamp in the future. It encourages other people to join the product development to help improve it and publish a major update.
GoodFirms researchers have endorsed Magic Projects as one of the best project management software for its free download & use, multi-industry functionality, and unique features with so much to offer.
To know more about the offerings of Magic Projects, one can also go through the detailed interview published at GoodFirms.
About

GoodFirms
GoodFirms is a Washington DC-based research and review platform for software and services. GoodFirms empowers companies to choose the best software from its curated list of industry-leading software in various categories to enhance profits and grow beyond imagination. It performs extensive research and analysis to evaluate and rank the listed software on critical parameters like features, uniqueness, ratings, and verified user reviews. This diligently curated ranking highlights the top performers for every software category and boosts the buying credibility of the software.
About the Author
Lisa Brian is presently working as a Content Writer with GoodFirms, a Washington-based B2B research company well-known for its research methodology and listings of 60k+ software and services. Lisa's current role revolves around gathering information and crafting it in a meaningful form that businesses can leverage. She helps companies communicate their vision and mission through digital platforms. Lisa believes in developing a symbiotic business relationship where companies mutually support each other and grow together.